When it comes to building anything, it's important to choose the right tools for the job. Likewise, when you're planning a major marketing event such as a brand activation, it's important to choose the right partners to help you see it through. A brand activation agency is an agency that specializes in strategizing and orchestrating online, in-person and hybrid brand activations.
These agencies help businesses create memorable experiences that capture audiences' attention, raise brand awareness and deepen brand loyalty. Brand activation companies aren't the only service provider that supports brand activations. Other marketing and PR companies may provide brand activation as one of many services. So, does it pay to niche down when preparing a brand activation or should you cast a wider net when choosing a partner for your next brand activation?
To help you answer that question, in this article we'll explore:
What a brand activation agency does
Alternatives to working with a brand activation agency
The questions to ask to evaluate what you need in a brand activation partner
What is a brand activation agency?
A brand activation agency or company is an agency that specializes in supporting a subset of experiential marketing activities known as brand activations. A brand activation agency assists companies in executing online, in-person or hybrid events and activities that introduce the brand and its values to consumers.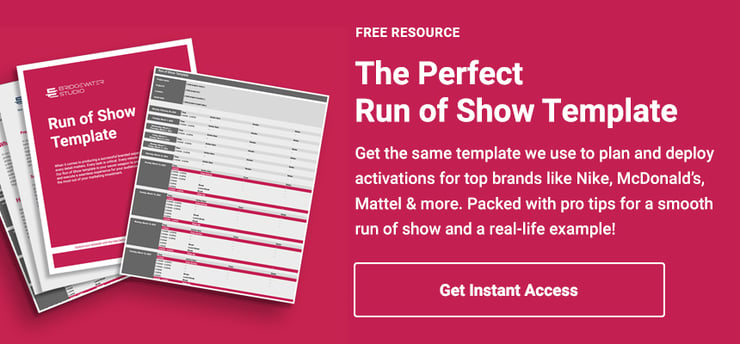 What are brand activations?
Brand activations are a form of marketing designed to create and strengthen connections between a brand and its customers. Companies activate consumers' interest by providing interesting experiences, sharing value-adding information or otherwise engaging and interacting with them without attempting to convert them immediately into customers. Brand activations are relationship-building endeavors, not sales events.
Brand activations combine branding and experiential marketing tactics and are usually campaign-based.
The campaign may consist of a single event, a series of coordinated activities across online and offline channels, or a series of events that take place in different physical locations or channels all linked to an ongoing campaign. If that sounds a little complicated, you can probably understand why businesses hire brand activation agencies to help plan and manage the process.
What does a brand activation agency do?
As is often the case when discussing marketing service providers, there's no one answer to the question: What does a brand activation agency do?
Because of their narrow focus, brand activation agencies are strong partners for developing objective-focused strategies for proposed brand activations. These agencies pay attention to what other brands are doing, and what worked or didn't.
A brand activation service will guide businesses through the process of setting objectives and identifying the key performance indicators for their activation, help them brainstorm ideas for achieving those objectives and often manage the project's development and promotion.
For example, a brand activation agency may help locate a company to design and fabricate the space or materials needed for the activation, keep track of the production timeline and promote the activation on social media and other channels. The agency may also take charge of gathering the performance metrics for the activation event.
Brand activation agencies also serve as liaisons between different activation stakeholders. A brand activation agency can communicate with the location owner for a pop-up activation or the event manager for a sponsorship activation, ensuring that all the agreed upon terms are met and the entire process goes smoothly.
Are there other types of companies that provide brand activation services?
With a deep connection to experiential marketing and heavy dependence on social media, other brand activation services providers include experiential marketing, event marketing or influencer marketing agencies.
For organizations that plan to handle the marketing and metrics in-house or through a marketing agency, an experiential design and production company can provide a valuable assist.
These companies can offer strategic support, conceptualization and design services, and fabricate or manufacture the actual activation space and its individual components. Selecting a design and fabrication partner and involving them at the pre-planning stage of your brand activation ensures that the activation idea can be achieved on time and within the project's budget.
Ultimately, when choosing the right partners to execute a memorable and engaging brand activation, whether the company provides the services and support your brand needs matters most.
Ask these questions to guide your choice of brand activation partners
Teams preparing for a brand activation should answer the following questions before they begin the search for a brand activation company to assist them:
Do you need strategic assistance to come up with a plan or concepts?
Will you need design services to create the schematics for the elements of your activation?
Do you need someone to manage your project and oversee the design, fabrication and/or installation processes?
Do you need someone to handle communications between vendors, site selection, installation logistics or other details?
Will you need marketing and PR support to promote your activation and to track the results?
Finally, when selecting a provider to assist you with your brand activation, be sure to get a clearly defined scope of work from each candidate so that you can make an accurate comparison of services and costs.
Brilliant brand activations come from building great partnerships
A brand activation agency can act as a trusted advisor, wrangler of vendors and general project manager for your next brand activation. But they aren't your only choice. A full-service design and production company with expertise in experiential brand activations can offer you the strategic insights of an agency and the technical skills of a fabricator all under one roof.
Schedule a no-pressure introduction to Bridgewater Studio today and let us show you how our end-to-end process can streamline your next project. We'll customize a free brand activation project plan you can follow to make your next activation amazing.