Experiential marketing activations come in all shapes and sizes—from oversized amphibians to a miniature Matcha-themed world. No matter the physical size, however, the scope of an activation project can be quite large, with many moving parts and complex challenges. In fact, the more brands turn to experiential marketing campaigns as an effective strategy, the more they look to outside experts for help pulling it all together. When it comes to successful brand experiences, a great concept is just the beginning.
With the right partner, brands can do more than create remarkable experiences—they can enjoy a stress-free process, optimize their budget, and generate a return on their investment. Finding the best experiential marketing company for your needs isn't always easy though. In Chicago alone, there is a wide range of experiential marketing companies to choose from, and many have distinct strengths and capabilities.
In this article, we'll share the top experiential marketing companies in Chicago and what they are best known for, so you can find the perfect partner for your next brand activation.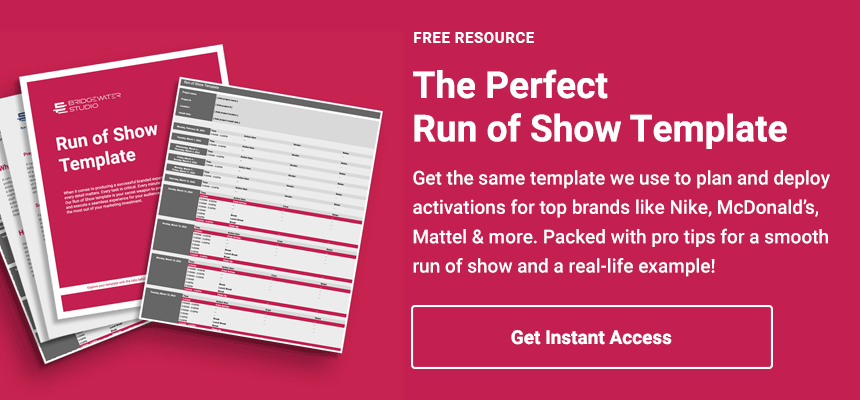 The 5 Best Experiential Marketing Companies in Chicago
Chicago is home to many of the best experiential marketing companies in the country (if not the world). Many service clients across the U.S. and internationally, with the ability to manage shipping and logistics on an impressive scale. Whether you're planning a brand activation in Chicago or further abroad, it will be well worth the effort to find the best partner for your specific project needs. Without further ado, here's our list of the best experiential marketing companies in Chicago.
Jack Morton
Jack Morton is a global brand experience marketing agency with expertise in experiential marketing campaigns, as well as exhibits, trade shows, corporate, and broadcast set design. They have worked with musicians, international brands, production companies, and more, creating one-of-a-kind brand experiences for Chevrolet and Coors Light, and modern set designs for That God's Honest Truth on Comedy Central and The Problem with John Stewart on Apple TV.
The company is skilled at creating complex experiences and environments that match the tone and characteristics of a brand and have additional expertise in digital marketing. In their Instagram x Ariana Grande x r.e.m. beauty experience, for example, they created an immersive space that matched r.e.m beauty's existing social campaigns, a 60's inspired space look that featured Grande as a posh, futuristic moonwalker. With their combined skills, the company was able to leverage Grande's social media presence to deliver premium Reels content to her audience.
All Terrain
As a full-service marketing agency, All Terrain is able to deliver memorable marketing experiences that reach customers in-person and online. In addition to experiential marketing activations like pop-ups, virtual events, and sweepstakes, the company has also worked with top brands like American Airlines, Cosmopolitan Of Las Vegas, and Ferrari on highly customized marketing campaigns. The brand has services that extend to film production and editing.
In a pop-up experience that paid a playful homage to the Apple brand, All Terrain created a pop-up mango store in New York City to promote the superfruit. The store had instructions on how to cut and eat mangos, how to incorporate mangos into recipes, and even how mangos could have applications in beauty and wellness.
OutCold
As a company primarily focused on experiential marketing, OutCold offers services in mobile media, experiential tours, custom builds, and vehicle upfitting, as well as staffing, tastings, and event production. The wide spectrum of services enables customers to create unique experiential campaigns. The company has worked with top brands such as Nike, Orbitz, Pandora, and Sephora, creating experiences from taco tours to podcast series to plant pop-ups.
In a partnership with UpWork in 2018, OutCold created a mobile tiny office that tapped into the tiny house trend. The tiny office traveled across the country, a feat made possible by the attention to detail and safe transportation organized by OutCold. Like many experiential marketing companies, OutCold ensured that the asset was secure enough to be transported, which is a consideration made from the very beginning of a campaign build.
Creative Republic
Creative Republic, a company that has worked with brands like GE, Boeing, Booz Allen Hamilton, Michelin, and Baker Hughes, specializes in brand development, special events, roadshows, and mobile tours, as well as exhibits and trade shows. Creative Republic covers every step of the experiential process, from theme development and event strategy to fabrication and production to entertainment and attendee engagement.
So Delicious, a brand of dairy-free foods, partnered with Creative Republic to develop a national mobile tasting tour, which also incorporated a digital aspect. They gave away 200,000 samples with the help of a microsite that provided a tour schedule.
Bridgewater Studio
A full-service experiential marketing company in Chicago, Bridgewater Studio lives for the creative and technical problem solving that comes with complex experiences. We've worked with brands like Nike, McDonald's, Adidas, Mattel, American Express, and Facebook—and can attest to the fact that every single project has unique goals and challenges.
From colossal sculptures to one-of-a-kind retail interiors, pop-up activations, and a fully-functional mobile data center, we've helped brands of all kinds and connect with their audiences through unforgettable, immersive experiences.
While high-caliber creative is in our DNA at Bridgewater, what truly sets us apart is a vertically-integrated approach to these complex projects. Unlike traditional experiential marketing agencies—who rely on an extended network of third-party vendors for CNC services, 3D printing, engineering, finishing, and more—we realized long ago that the best experiences result from complete control over the project process.
Our clients enjoy the efficiency and attention to detail that comes with a single, in-house team to lead them through ideation, design, fabrication, shipping, installation, and project management.
Finding the Right Experiential Marketing Company in Chicago
When planning an experiential marketing campaign or brand activation in Chicago, the right partner will make all the difference, contributing their expertise to add value at every step of the process. Whether it's selecting the right materials for a build or anticipating installation challenges, the best experiential marketing companies in Chicago can guide the countless decisions that will be made throughout the project lifecycle.
To learn how a full-service design and fabrication company can bring value to every stage of your next marketing experience, schedule a no-pressure introduction to Bridgewater Studio today and get a free project plan that sets you up for success from the start.