Experiential marketing is a designed interaction with a brand, with the purpose of spreading awareness and developing a loyal following. Fabrication, within the context of experiential marketing, is the physical creation of the objects needed to make this occur.
The key factors to a successful experiential marketing campaign are:
Authenticity – There must be a certain level of situational realism to earn an audience's trust and attention.


Immersion – An interactive exhibition or experience that transports an audience to a different, believable, memorable environment.


Demonstrative value – Showing how the product or service is useful in everyday living
---
The Role of an Experiential Fabrication Company
The design and fabrication of an experiential marketing campaign is a complex task. It should be a designed, planned interaction that still feels organic.
Whatever the planned experience entails is up to you, but it should tell a story while creating a moment that's worth remembering, a genuine experience that draws the audience into a fun new environment that also subtly demonstrates the value of a product or service.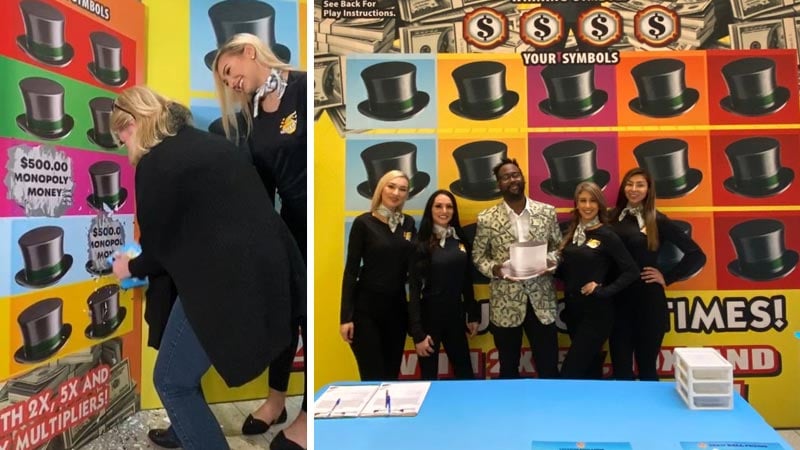 The Illinois State Lottery invites audiences to play a larger-than-life version of their latest scratch-off game – an experience they'll want to share on social media.

The ultimate role of an experiential fabrication company is to create the perfect opportunity for a positive brand interaction to happen. The best scenic design and fabrication studios improve the target audience's quality of life, entertain, or educate – if only for a moment – in a way that they will want to share on social media and other channels.
---
Why Experiential Marketing Works
With consumers spending so much time online, brands are turning to experiential marketing to solve two major challenges:
Distracted audiences – Getting an audience to focus is becoming increasingly difficult.


Limited reach – There is no opportunity to physically interact with a product online.

Experiential marketing solves both of these problems by getting an audience to physically interact with a brand and engage long enough to make a meaningful connection. If the interaction is successful, they are more likely to share their positive brand experience online with others.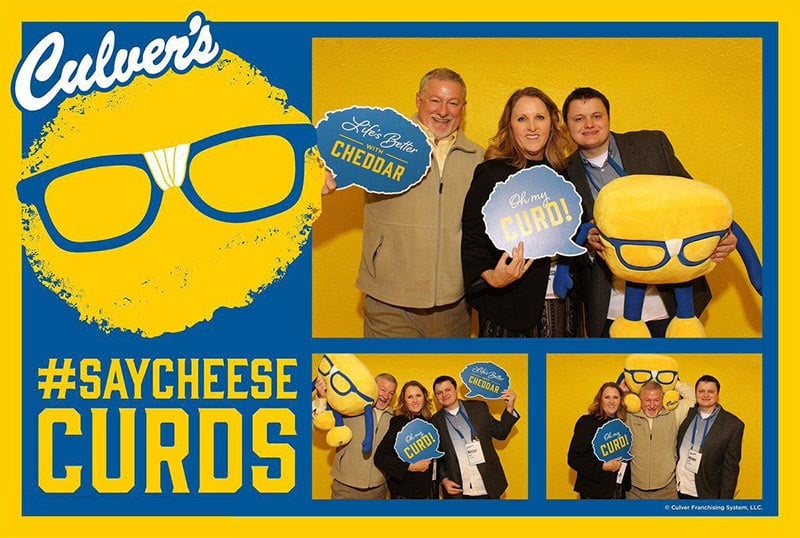 A fun photo opp for Culver's turns into a viral promotion for the brand.
---
Common Items in Experiential Fabrication
Brands will often need the following to be fabricated for experiential campaigns:
Custom Wayfinding Signage
Custom wayfinding engages visitors by helping them navigate into and through an exhibit or environment.
Interior wayfinding signage can help navigate around enclosed spaces and includes . . .

Directories – Usually located near stairs, elevators or lobbies, this wayfinding sign displays the name and store number of shops on every floor.
Plaques – A small display name or room number by a door or stairs.
Floor/hallway markers – Hanging signs or floor decals of different floor names.



Outdoor wayfinding signage tends to be larger, high contrast, and includes . . .

Pylons – Large signage displaying the name of a company on roads and in parking lots.
Banners – Typically hung on the exterior of a building.
Maps – The most traditional outdoor wayfinding signage of all.


Interior signage can be made of softer, more unique materials than outdoor signage, which must be weather-resistant to avoid corrosion and other elemental damage.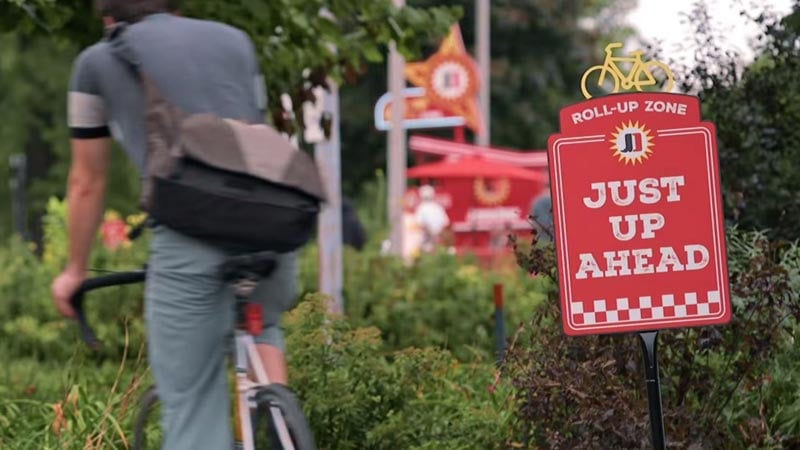 Custom wayfinding signage guides cyclists to a pop-up experiential marketing campaign for Jimmy Dean.
Custom Graphics
The main purpose of custom graphics is to help tell a convincing story. The right graphic design can make whatever information you have feel more impactful and decisive.
With custom graphics design, logos, illustrations, and messaging can all be printed on a wide variety of substrates, including:
Digital paper
Polyester
Glass
Cotton
Much more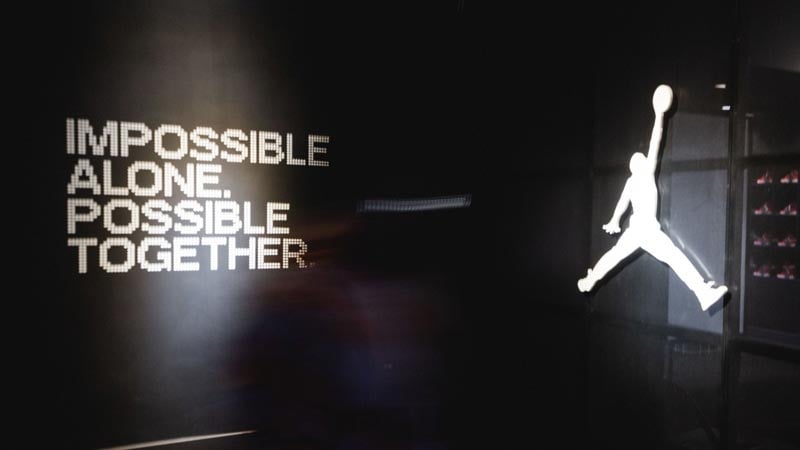 Text and graphic design work together in the corner of an exhibit at the Jordan Store in Chicago.
Walls
In addition to displaying wayfinding signage and graphic designs, walls usually serve to anchor some part of the exhibit and provide project stability, helping to create a linear flow between the entrance and exit.
The color and lighting of walls lets visitors see objects better and read text more easily, which is why most museum galleries and trade show walls are white.
Functional Cabinetry
Functional cabinetry in some form is often necessary to store promotional items on display, to use as employee storage, or as barriers to create secure spaces for product demonstrations.
Cabinetry also includes unique display cases or stands to showcase products in an unusual way. Often this is accompanied by custom lighting or other art installations for additional atmosphere.
---
Understanding What Audiences Want from Experiential Marketing
Researching the way your audience interacts with the broader world is key to presenting a story they will connect with and share. This includes understanding how they interact with the internet, since a goal of many experiential marketing campaigns is to go viral.
If you are going for the adults-under-30 crowd, you might want to encourage them to share their campaign on platforms like Instagram, Snapchat, and TikTok. To reach a broader general audience of all ages, consider YouTube. When designing an experiential marketing campaign, keep in mind anyone older than 65 is less likely to share your experience on social media.
Pay attention to any trends or sustained interests that apply to your target audience. They are more likely to react positively to an experience if it is already a trend they are familiar with, or an activity that many people in the same age group enjoy.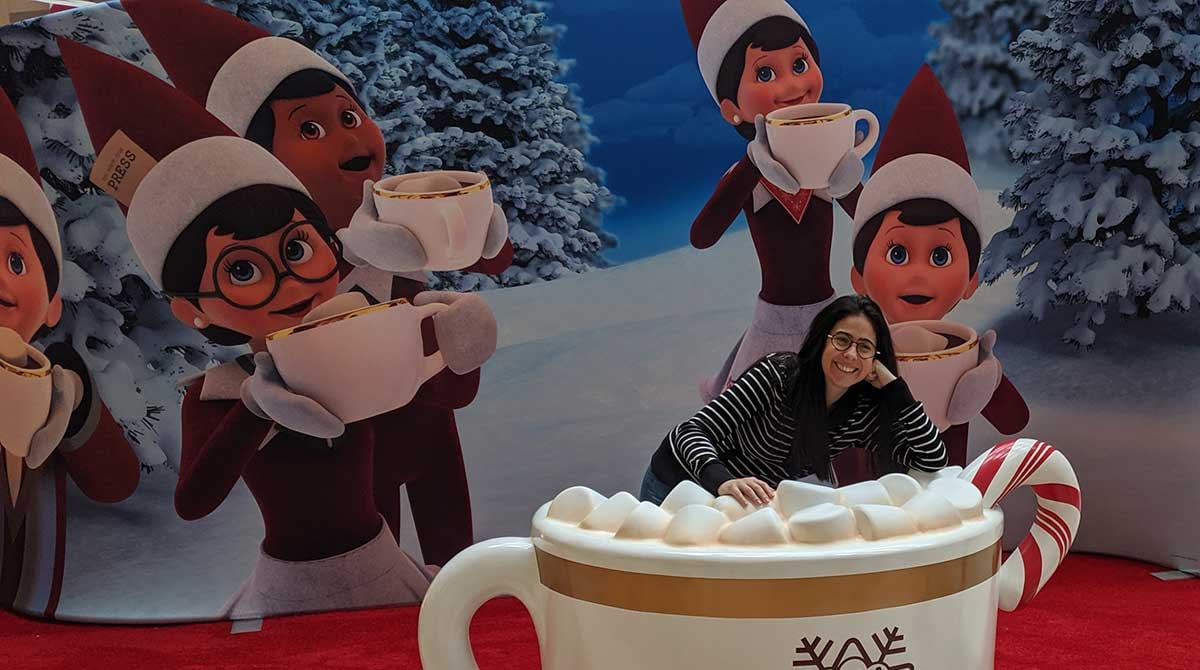 An Elf On the Shelf® selfie station helps a holiday mall exhibit go viral.
---
Make Sure Your Experiential Marketing Succeeds by Hiring a Fabrication Company
A good experiential fabrication company will know how to create a lasting impression that holds your audience's attention and creates a real brand connection. They will bring experiential marketing campaigns to life with attention-grabbing environments that are so immersive, your visitors will not be able to keep themselves from having a good time, sharing the fun online, and fondly remembering it all.