From retail activations to trade shows and other live events, brands are increasingly turning to experiential marketing as means of connecting with their audiences in-person. Whether it's a pop-up offering freebies at a music festival, an over-the-top photo op in a public space, or a one-of-a-kind interactive game, imaginative brand experiences are blurring the lines between marketing and entertainment.
As more brands look to get in on the action, they will quickly discover that these are complex undertakings that require serious project management to pull off.
With so many details and moving parts, even the simplest of marketing activations require comprehensive planning from the very beginning. The design and production of physical components, while a major effort, is only one piece of the puzzle. Once built, every last project detail must come together in perfectly choreographed form on-site. Live. In-person.
A run of show schedule makes it all possible. This document serves as the game plan and is the single source of truth for the frenzy of activity that takes place during an entire event timeline, from start to finish.
Of course, it takes a lot more than a schedule to ensure everything runs smoothly. In experiential marketing, nothing is guaranteed to go as planned, but following best practices and trusting in the most experienced partners is a great place to start.
For brands who are new to experiential marketing, or aren't familiar with a run of show, read on to learn why this document is so critical to a successful event. And, for brands who've been there and done that already … this article is for you, too. The best experiential marketing activations are those with a solid game plan, and you can never be too prepared.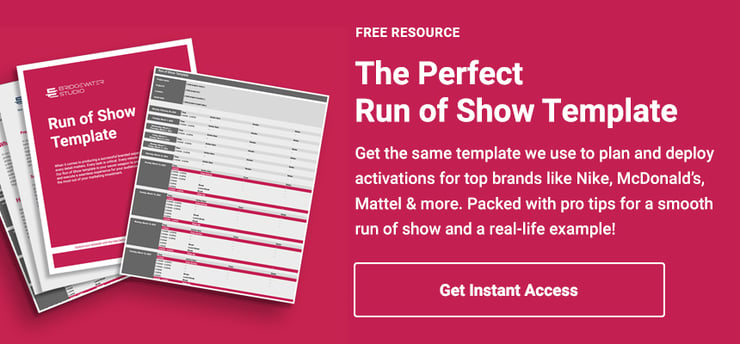 What does Run of Show Mean?
A run of show is a master schedule for a live event, production, or marketing activation. In a run of show schedule, every organizational detail of the day(s) of an activation is covered. This can include when staff, talent, and vendors show up, to an hour-by-hour list of activities, all the way through to breakdown and removal of displays, booths, or other infrastructure. This choreographed order is critical for a successful brand activation, ensuring no detail slips through the cracks.
How to Create a Run of Show Schedule
A run of show schedule should be a detailed, living document that serves as a single source of truth, evolving up to and through a marketing activation. The run of show should include key contact details, times, who is responsible for specific tasks, and more. It's also important that the activities and schedule of the experiential marketing event are listed in chronological order.
A run of show should include both major and minor details, such as:
Start dates for preparations, such as arrival times for the team
All of the preparations needed for the event, such as setting up booths and tents, putting up decor, and more
Arrival times of staff, talent, hosts or performers
The members and roles of the event team and their contact information
Any audio or visual checks needed
Marketing displays or graphics that need to be set up
Start dates and times for attendee arrival
The time and duration of every activity held during the day(s)
Every activity during the activation
The end date of the event, when attendees leave
All breakdown items needed for the event
The run of show can be a digital spreadsheet or a printed "schedule," depending on the preferences of an organization. Digital run of show schedules have an advantage, as they can be accessed and updated from anywhere, while a printed run of show may get lost or lack the most recent changes. To create the run of show document, teams can use scheduling software or free solutions like Google Sheets, depending on the amount of customization needed.
Maintaining and Managing a Run of Show Schedule
When brands are planning and designing an experiential activation, there key stages in the process include planning, design, production, on-site activation, and teardown. The activation stage is when the elements of the event are installed and the event takes place, all guided by the run of show schedule.
The run of show schedule must be maintained and updated throughout the course of an event to manage essential details such as:
Shipping: The physical components of a brand activation will need to be transported from a production facility to the event location. The project manager in charge of the run of show must manage the logistics involved with unpacking and installing the physical environment.
Installation and set-up: The set-up and installation of an activation can be complicated. The run of show document must reflect the accurate amount of time needed to set up the physical environment in full, as well as any audio or visual components that must be tested, and any additional vendors, equipment, or resources required.
Logistics: The logistics and activities for the day(s) of an event may require additional set-up, rentals, equipment or tech, which may include sound, lighting, mics, and more.
Storage: The team may need to unpack items such as samples, uniforms, or merchandise that has been stored and packed for the event. When managing the run of show document, employees should consider any additional tasks related to these items, such as ironing or assembling kits.
Daily Activities: The activities of an activation can include anything from handing out free samples to running product demos to hosting guest speakers. It really depends on the event, but these activations should be monitored hour-by-hour. Determining the time frame for each individual activity before the event starts is critical to maintaining a tight schedule.
Anything can happen on the opening day of an event or during the course of a marketing activation, ranging from weather issues to delayed shipments, challenges with vendors, last minute creative changes, and more. The best way to prepare for the unexpected is with a detailed run of show schedule and an experienced, nimble project management team.
The more involved your on-site activation team is with the project process leading up to the run of show, the more knowledge they will have when it comes time to respond to any unplanned obstacles. This is why many brands partner with a full-service experiential design and fabrication company. A full-service partner will have a multidisciplinary skill set and the capabilities to plan, design, build, transport, install, and manage a complex brand activation.
Pulling Off A Successful Marketing Activation
A partner who methodically updates and abides by a comprehensive run of show schedule can be the difference between a successful activation and a stress-filled, chaotic event. While most experiential marketing agencies are capable of creating a run of show, a full-service design and fabrication company can also fabricate and install all of the physical components for an activation. For many brands, this control over the entire process is the preferred way to have all on-site logistics managed in concert.
To learn how full-service experiential design and fabrication services can take your next marketing activation to the next level, schedule a no-pressure introduction to Bridgewater Studio today. We'll prepare a free project plan to set your brand up for success from the start.